If you've ever asked yourself how you can become a long-lasting digital nomad and live the dream, we got you covered! We asked experts for their best tips, the ones they wish they knew before starting their digital nomad journey, and their answer might surprise you – they will for sure help you. Which tip is your favourite? Are we missing any? Let us know in comments.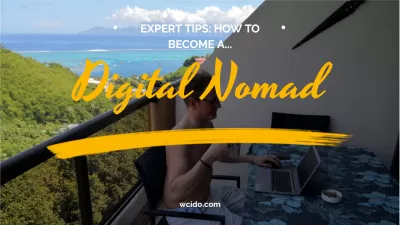 ---
---
Know what you want to do
While it's important to assess what you're good at right now, also be honest with yourself on what you want to do. Being a digital nomad is fulfilling since you can work anywhere you want, but you should also love the work so you don't see it as an inconvenience to your travels. Do your research on what jobs you can do remotely, and assess which skills you need.
Take the entrepreneurial path.
Being your own boss is one of the fastest ways you can achieve a digital lifestyle. But it's not all pleasure as you still have to do the work. You can start your own company as I did, or buy an already established business online. If you already have one yourself, make plans to fully take it online so you can work wherever you want.
Learn or polish the skills you need. *Don't be afraid to learn something new. There are many changes that come with the digital nomad lifestyle, and you may need to learn new skills. But don't worry, anything you need is on the internet. You can self-study and browse resources, or you can go the fast lane and take paid courses.
Set up systems and processes and hire great people to execute on client needs and requests
I'm as nomadic as I can be with a family of four kids. Last year we spent more than four months away from home while I worked remotely. It was a great experience for the kids and family. My recommendation for folks looking to set up a similar lifestyle business is to set up systems and processes and hire great people to execute on client needs and requests. With the right people in place, operations won't quit even if you do.
Before You Go, Make Sure You Have a Job
You shouldn't immediately quit your work and start a new life as a digital nomad, despite what many people think. Even while it's tempting to just dive right in, planning ahead is considerably more prudent than winging it once you arrive.
When most businesses first start producing money, it usually takes a while (and blogs can take years). I wouldn't recommend starting your new digital nomad career while traveling unless you have a sizable emergency fund.
First, do it at home. When you depart, you should already have a customer list and be producing money. You won't have to worry about starting a company while also attempting to see the globe.
The easiest way of earning an online income in 2022 is by starting a niche website
I believe the easiest way of earning an online income in 2022 is by starting a niche website. Find something you are passionate about, and set up a simple WordPress site. SEO is getting more focused on quality and expertise lately. Being an expert in your field is an absolute must! Do research on what people are searching for and create some excellent content around it.
The internet is currently the biggest market and it keeps growing every day. It is not unlikely to start a website and earn $1000 p/m within the first year. Even better, when you have a well-established website you can sell it for a huge profit!
My number one tip while working on an online income: Get quality traffic first, monetize later. What I mean by this is focus on providing useful, high-quality information. Once you get people interested in your content monetizing your traffic becomes a million times easier.
Keep Your Work and Travel Lives Separated
It's difficult to maintain a work-life balance when you're working from a different country. New countries might make it easier to spend too much time on vacation and having fun, rather than enough time working. It's easy to get carried away exploring new places, trying new foods, and meeting new people, which might lead to overscheduling your free time.
Set clear boundaries between working and exploration so that you can be sure to get your task done. The most successful digital nomads adhere to rigid timetables to make sure they accomplish all of their goals. You may choose to devote a whole day to one or the other, or you may break each day into smaller chunks. Stick to your plan, no matter what. This will guarantee that you get your work done while still having the opportunity to see the place you're visiting.
You need to know where your talents lie and if that can be profitable for you
I am a digital nomad and I am currently living in Spain. To become a successful digital nomad, you need to know where your talents lie and if that can be profitable for you. Don't try something that you hate just so you can become a digital nomad! Find work that inspires you, and you don't mind doing. For instance, you could become an online teacher, graphic designer, content writer, translator or seller. The list is endless!
I always had a love for teaching and writing, and those are the two things I do today. I am a founder of TPR Teaching, which was set up to inspire English language teachers and English language learners around the globe. I worked very hard over two years to build my business before I even began travelling. Now, I am travelling Europe as a solo traveller and love every minute of it!
Make an effort to keep yourself organized
As a digital nomad, staying organized is your best friend. In addition to organizing your personal life, you'll likely be juggling many responsibilities at any given time. If you are unable to keep track of everything, you may find yourself falling behind and losing business.
One of the perks of being a digital nomad is the ability to choose your own schedule. However, no one will be watching your back to make sure you're staying on track and planning out your day. It's all up to you. As a result, take a day planner, write down all of your due dates, schedule time blocks for specific activities, and keep your eye on the prize.
Commit To A Set Work Schedule
The problem with remote working is that it can often be very difficult to manage your schedule. After all, unlike in an office environment, it's easy to wake up and find a number of distractions all around you. However, as a digital nomad, things can be even more difficult to manage, as it can be tough to get into a good productive rhythm when you find yourself waking up in different places often. It is for this reason that you should make an effort to commit to a schedule. For instance, if you're an early bird, then focus on getting as much work done in the morning as you can. The earlier you decide to stick to a schedule, the easier you will be able to manage your work and personal life, as the routine will become second nature, no matter what the timezone may be.
Start blogging - focus on one niche, and start making money by doing what you love
To become a successful digital nomad today, start blogging. With blogging, you can focus on one niche, and start making money by doing what you love.
You don't need to even write anything, you can just hire good people that will write for you, All you have to do is just to give them instructions. There are tons of hungry writers that can write for you. My tip is to use Upwork.
Yes, there are many writers that are so expensive, but there are also so many people that are just waiting for their chance to get that first job and first review. But you can build a relationship with these new writers and create something big.
You can start earning from your blog just right away. There are Ad Networks that will accept your website as soon as your content is unique and you are writing with a focus on the US audience.
In the end, once you build a big website, you can sell it for about 30x multiple in case your site is established and get at trust Just stick to it for 2 years and don't jump from one thing to another. That's the key.
Realize that it can take time to build enough income to go fully remote
My biggest tip for aspiring digital nomads is to realize that it can take time to build enough income to go fully remote, but it is well worth the effort. If starting your own business feels too dauting, there are so many online freelance jobs through Upwork.com (such as freelance writing) that can still allow you to live the digital nomad lifestyle.
The best thing to do today is to start saving now so you have a buffer in case digital work slows down or is inconsistent. Being a DN and exploring the world is such a freeing lifestyle and I highly recommend it to anyone who has the chance to do it.
Seek community early on
My #1 tip to becoming a successful digital nomad is to seek community early on. The investment in co-working and co-living spaces will help you find like-minded individuals, grow your network, make friends, gain tips from seasoned digital nomads AND save big bucks on coffee shop bills. My biggest struggle during my first three years of digital nomad life was loneliness.
During those three years, I visited 30 countries while building my digital marketing agency, Dawning Digital.
I mostly worked from cafes, and while it was fun, I racked up big cafe bills and didn't get to meet anyone I could relate to. Back then, everyone was like what's a digital nomad?. I loved working from beautiful places and having an endlessly changing horizon, but the community aspect was missing. It wasn't until I joined my first co-working space, Dojo Bali, that I realized just how valuable these communities are. I found work buddies, people who understood me and supported me, inspirational leaders, and made lifelong friendships. My only regret is that I didn't join a co-working or co-living space from the beginning!
The importance of attending conferences and events to meet people in your industry
I wish someone had sat me down and explained the importance of attending conferences and events to meet people in your industry. Being a digital nomad, especially if you're freelance, is often feast or famine and you need to constantly stay networking and making connections.
You never know who you're going to meet or what kind of opportunities will arise just by going to a conference. Expat Facebook groups in different cities around the world are often good places to drum up business as well.
There are several ways for becoming a digital nomad
Some people use their abilities for a conventional career, such as IT, engineering, teaching, editing, writing, translation, marketing, or even starting their own business.
Before you board an aircraft and fly to who knows where to consider what you want to do. Starting a job or business in your native country is considerably easier than attempting to figure it out on the go.
This is not to say that it cannot be done; nonetheless, you may lack the flexibility or time to work things out on the fly.
Figure out how to stay productive
Digital nomads are those that bounce around from spot to spot, running a business or working online. The term digital nomad is open, and can be one of many different things. There are tons of digital nomad entrepreneurs and business owners who look for help filling roles they need within a digital nomad community. It's common to find postings in these communities of digital nomads looking for graphic designers, copywriters, social media managers, and more. Becoming a digital nomad allows you to travel the world. Once you've figured out how to stay productive you can reward yourself and go on workations to many amazing countries around the world.
Make the most out of your schedule
My biggest tip for anyone hoping to become a digital nomad is to make the most out of your schedule. When becoming a digital nomad, you will quickly realize that making the most out of your time is essential. Work hard, play hard really applies to this lifestyle and that's why it's important to understand which hours you are most productive so that you can make the most out your travels. ​
Unlike a traditional office job, your job performance isn't measured by the hours you work but the quality of your work. Being a DN only works if you are able to get into a schedule that ensures you are being productive with your time.
Bring the Appropriate Gear
Whatever course you choose from the options above, you'll need two things: a computer and an internet connection. If you already own a laptop, that's excellent; you're already halfway there. If your laptop is approaching its fourth or fifth birthday, you should consider replacing it. It's entirely up to you whether you like Apple or Windows. It's best to go with the fruit if you're creating graphic design and artwork. If you work in IT or require particular applications to do your tasks, Windows is the way to go. Make sure to inquire about alternative plugs for the numerous outlets you'll certainly encounter from your laptop maker. You could buy an adaptor, however, if you intend on being in one place for a long time, ask if they have a power adapter for that nation.
Start building passive income streams by doing side hustles
My advice would be to start building passive income streams by doing side hustles. Start your online business or run your blog as I did, work on several projects that interest you. You don't need to be an expert, as long as you enjoy what you do. Don't be afraid to fail and make mistakes and learn from them. Be persistent, keep learning and continue trying. You'll never know what might happen unless you try.
Create a Personal Brand
While travelling, many digital nomads do not have the luxury of having contracts or paying work. This implies you'll need to focus on developing a strong brand and selling yourself. There are several free digital marketing courses available to assist you get started, teach you how to establish a portfolio, and connect with other businesses or clients. It will also assist you in demonstrating who you are and what you represent to businesses, clients, and consumers. Your brand is more than a logo; it's a reflection of who you are and what you do. If you own an internet business, your  domain name   is the foundation of your brand. That'll be the first thing people see about your company and how you can attract them in.
Bring high speed internet with you
I'm a Certified Career Coach who helps people stop settling and love their life at www.livelifepurpose.com. I started traveling solo at a young age, but never combined it with work until just a couple of years ago. My two biggest hurdles as a new digital nomad were finding consistently high internet speeds suitable for video conferencing and getting lonely. I went to Mexico, which does have high speed internet in some places but it's often spotty or not there at all. Trying to get Airbnb hosts to take screenshots of speed tests before booking wasn't always practical or timely. Hostels were great for meeting people, but usually too loud to get work done. And coworking spaces had great internet, but were expensive and not private enough for 1:1 client meetings.
A tip to get around some of these issues is to bring high speed internet with you. If you're going to be moving around a lot you can buy a local sim card and tether your computer to it so that you're using the local cell towers instead of relying on heavily burdened hostel networks or unreliable vacation home wifi. Another option is to get a portable hotspot such as Skyroam. You don't have to change out your own sim card and you just pay for how much internet you need. This way, you can work from any quiet place you like, and meet people independent of where you live. For example, on tours, while volunteering, or at a hostel whose internet is no longer something you have to worry about. These options only work where there are cell towers, so keep that in mind.
There are also many services and message boards for digital nomads to find each other, network and share experiences. You can choose to live with others in the same situation, though coliving companies are usually more expensive than finding your own lodging. Outsite and Selena are a couple popular options. To simply network with others and maybe meet up for a coffee or a day trip, check out Nomad List.
Have a place to return to
If you intend to abandon your earthly possessions and hit the road, digital nomads must *have a place to return to *and serve as a base. Despite the challenges and complexities of life as a digital nomad, the perks may make it an extremely rewarding way to live and work. The lifestyle of those who travel about combines career progress with adventure.
The life of a digital nomad can be enticing to folks who have spent most or all of their lives confined to a desk. However, all offsite employees need to ensure everybody around them know that functioning as a nomad is not the same as taking a lengthy vacation with the occasional hour of work tossed in.
Make Your Flexible Schedule More Productive
As a digital nomad, you will enjoy the fact that it is the most flexible way to live. It gives you the chance to work at the time of your choice, and you will want to make the most of it. As such, you can plan to work during the most productive hours. Remember that your job performance may not be based on the hours you log in but your efficiency. If you can plan well, you can deliver work within a few hours and earn yourself some downtime.
A – Some things can only be taught by the moments you spend in the field
These experiences only make you a successful digital nomad. I have been in this field for a long time and found some things that I wish I knew before becoming a digital nomad. With these things in your mind, I am assured you will never face a wall as I did. The things are: -
Importance of using the right technology at the right time.
Importance of base before starting
You should always know how to be alone. If you want to be a successful digital nomad.
You will always meet people in your lane who envy you but will never understand your life. You should know how to avoid them.
Always be ready to enjoy. Even if you become sad in this field, you need to enjoy it as well.
By keeping these things in mind, I am sure you will be a successful digital nomad one day for sure.
Conduct thorough research before deciding on a country to base yourself in
Be sure to conduct thorough research before deciding on a country to base yourself in. My advice is to start in a country which has a thriving digital nomad community. This will make a transition much easier as you'll now have a network of like-minded people to connect with. In my travels around the world I've often encountered digital nomads just starting out and clearly not being happy because they're in a place where they feel lonely and can't speak the local language.
Be prepared to work hard
You will not be working in an office setting, but it will only make it harder to get all those facilities. Getting good wifi or trying to cover the time difference along with the chaos of your travel plans. It may not be a joy ride, but be sure to get working hard. It can also take harder for people to set themselves to be digital nomads. It can sometimes take years to get a good income. So, presistance is important along with hard work.
There are only a few skills needed in life if one is to be successful
It all depends on how you define success. Very few successful digital nomads start out with a plan to be a digital nomad. They don't make it a life goal, and neither should you as that puts the emphasis on becoming homeless. Strive to have a job you can do remotely that is consistent paycheck and learn how to have several online side hustles.
There are only a few skills needed in life if one is to be successful. The first is self-awareness. This is important because only you know what success means to you. Second is critical thinking skills. With this skill, you can take calculated steps to your goal. In this case a digital nomad. Finally, there is intelligence. I don't mean IQ or EQ. I mean the ability to size up others and yourself objectively.
In a profession that is unstructured such as a digital nomad these skills along with a good foundation of network and programming knowledge, should be a good foundation for what you are perusing.
The best advice I can give after being a nomad for years is to have a solid foundation of true friends who are there if things don't work out. The planet can be lonely at times. If you put your mind to it, anything is possible.
Have a game plan for what to do if you get sick
A successful digital nomad needs to have a game plan for what to do if they get sick. I got very sick in Thailand and trying to navigate the medical system was difficult. I'd never even considered the possibility of getting sick, and most of the information I could find was in Thai. Fortunately my partner was able to get me care – if I'd been alone it wouldn't have ended well. When you get to a place you're going to settle, figure out where the nearest medical center is and what you need to do if you need care – including whether you need to pay in advance, which is required in many countries.
Also remember that, if you are very sick, travel insurance is designed to stabilize you and then send you back to your home country, while global medical insurance is designed to treat you where you are until you get better. If you were hit by a car, or you had a heart attack, would you want to be sent to your home country to recover? Some nomads are short-term, but others no longer have home country ties. Get the right insurance for your long-term plan.
You should also have these qualities
If you want to make it as a digital nomad, you should also have these qualities:
Self-discipline - the ability to say no and focus on your work even when fun, amazing, and awesome adventures are at your fingertips.
Healthy habits - these ties into self-discipline, and it might sound silly, but it really can be challenging to stay healthy when traveling frequently. Exercise and sleep routines are disrupted, sometimes you choose to grab something quick to eat rather than something healthy .
Okay with being alone - you might be alone for long periods of time as a digital nomad, and you must be okay with this. Some days the most I'll say to a person, that's not online or via FaceTime/video conference, is my coffee order.
Ability to take on new challenges and push yourself - it's easy to plateau career-wise as a digital nomad. Don't let this happen, work to keep yourself sharp and on top of market trends. I'm going on my third career now as a nomad (ESL teacher, recruiter, now a little bit of everything for an iPhone app and website). My latest role has been the most fulfilling one so far since I'm able to push myself every day to learn and put new things into practice.
You need to find your passion - it will become your life
Digital Nomad: Living a life as a digital nomad is a dream wanted by many but the key is to find something you are passionate about. I have a website called Gifter World for unique gifts for those who have everything and I am able to work anywhere in the world. The reason you need to find your passion is that it will become your life.
Fortunately, I love researching new, fun gifts because I spend hours a day writing about it. If it wasn't something I enjoyed in my soul, it would get old really fast and it would be hard to sustain it.
Everyone is great at something, so if you know what it is, figure out a way to share it with the world. If you are passionate about traveling, think about ideas to do in that area. If your heart soars when you think about food, then perhaps dive into that field. No matter what your passion and expertise might be, there are people out there who would love to learn from you, so share it with the world.
AskAGirl offers women the ability to make extra cash from anywhere
The new iPhone app, AskAGirl has officially launched on the App Store. The platform serves as a modern-day advice column by connecting users to advisors to provide a female perspective on categories including fashion, dating, motherhood and much more. By simply scrolling through and selecting an advisor, members can initiate conversations through text, audio or video chat.
In addition to enriching lives through personalized advice, AskAGirl offers women the ability to make extra cash from anywhere. Digital nomadic lifestyles are becoming more and more prevalent, and this app can help women achieve that freedom.
AskAGirl was created by Founder and CEO Mohammad (Mo) Ali alongside Ali is his friend Lester Carter, chief operating officer of AskAGirl. The pair decided to start the company to solve a common problem in their own lives: bad advice from friends! Mo jokes that he was the app's first customer.
Downloading AskAGirl on the App Store is free. On the app, credits are redeemed in exchange for communication with advisors, with payment for credits charged to a user's iTunes account.
It is a lifestyle and it is only suitable for the people who like to travel
Becoming a digital nomad in this modern era may look like a career choice but it is a lifestyle and it is only suitable for the people who like to travel. There are only two sustainable choices by which you can be a digital nomad and stress-free at the same time but both of them require enormous efforts and guts to pull through. The first and possibly most difficult choice is to become your own boss by having an automated business that can be controlled using the internet. Through this way, you can be an entrepreneur and a digital nomad but it will require a huge amount of effort to find and run a business that can be automated properly. The second sustainable choice is to work under a boss that allows you to work remotely. This implies picking a location-independent vocation that will suit you. Begin dealing with or towards that vocation in your extra energy and construct a consistent type of revenue. Before you can turn into a Digital Nomad you need to wrap up getting your cash right. I'd recommend holding back to pull the trigger on voyaging assuming going rashly would set you in a shaky position. When you are positive about your accounts, begin arranging your outing. My main tip here is "Ensure you can work where you go".
Commit to sticking with it
The most important thing you need to do to work your way toward becoming a successful digital nomad is to commit to sticking with it. Of course, you will have highs and lows along the way, but sometimes the bad times make you forget the good times. If you're not focused on working through the problems, you'll be tempted to quit.When things get hard, you have to keep coming back to your goals. Finding a mentor can help you stick with your resolve. A good mentor will understand your experiences and will likely have gone through similar. Therefore, they'll be able to provide guidance that will help you find a resolution.Another way to help yourself stick to your goals is to set aside money when you're making a lot so that you'll have what you need when you're going through a rough patch.When you reach success, you'll see that your commitment was worth it because you'll have the freedom to live the life you want.
The path to becoming a successful digital nomad will vary depending on each individual's skills
There is no one-size-fits-all answer to this question, as the path to becoming a successful digital nomad will vary depending on each individual's skills, experience, and goals. However, some tips on how to become a successful digital nomad include:
1) Start by researching the lifestyle and what it takes to be a successful digital nomad. This includes studying the habits and routines of those who have been successful in this type of career, as well as reading articles and blog posts about the subject.
2) Make sure you have the necessary skills and experience to work remotely. Some key skills that are often necessary for success as a digital nomad include writing/editing skills, graphic design etc.
3) Start by developing marketable skills. What are you good at? What can you offer others that they may find valuable? When you have an idea of what your strengths are, focus on acquiring the skills and knowledge necessary to capitalize on them.
4) Get involved in the digital nomad community. There are many online forums and groups where like-minded individuals come together to share advice and collaborate on projects.
Just about anything can be done remotely with a decent wifi connection
For starters, realize that just about anything can be done remotely with a decent wifi connection - which means you no longer need to be present monitoring every little aspect, so you can literally live anywhere and still work and make a great living.
Start working today at creating the ability to make money from the comfort of you home so when you make the leap it's not as scary.
This can be from picking up a side hustle on the internet using sites like Fivver or Upwork, to  Starting a blog   or Youtube channel to make money from.
Next, have the proper expectations when rolling out your idea.
Realize not everyone is going to be supportive for your nomad lifestyle, so expect some pushback from the people you love the most (friends and family).
While these people may love you, they don't share the same ideas, dreams, and desires, which is perfectly ok, however, it can make for some very uncomfortable conversations. This is completely normal and to be expected.
I recall my Mom's response the first time I told her that I was going to quit my full-time, 70K per year job to explore other options.
A long huff followed by, You think this is a good idea?
That was in 2001 and I've been doing my own thing since then.
The aspect of nurturing my mind to work hard
Being a nomad comes with exciting moments and experiences from my work line but it also comes with loads of work which actually includes content management to the public. What I wish I knew before venturing into the digital nomad would have been the aspect of nurturing my mind to work hard.
I thought digital nomad would make my work level reduce and stress free little did I know, that I had more on the table to sort out. Aspiring nomads should set their mind on working hard to achieve their set goals in their career.
Have essential skills and an undaunted determination
To become a successful digital nomad, one needs to have essential skills and an undaunted determination.
My best tip to becoming a successful digital nomad is to get started with a job with a company that teaches you the skills to do your business online. If you get a job at a digital marketing agency, for example, you can learn several essential skills to become a digital nomad. This is one method that will best suit an aspiring digital nomad and the safest ways to get started.
In the beginning, there will be many people who will try to convince you that digital nomadism is not the way to go and will discourage you from abandoning the traditional ways of working, with the premise of insecurity. Don't listen to them. Believe in yourself, in your purpose, and in the will to make it happen. Everyone has a path and some may be more difficult than others, but that doesn't mean it's impossible.
All great jobs will allow you to work from just about anywhere
With the explosion of remote and hybrid work now in today's marketplace,becoming a digital nomad is easier than ever. This was one of the biggest hurdles for people that didn't have online businesses to rely on for income to reach the digital nomad pinnacle. It's also easier than ever to be  a freelancer   online, if your current job doesn't support a nomadic lifestyle. Writing, proofreading, even being a virtual assistant are all great jobs to pursue that will allow you to work from just about anywhere.
Start by sticking close by in order to get used to the concept
Start by traveling to locations not too far from your current residence. If you just up and decide to move across the globe after having never worked from another location before, it can be really overwhelming. So, start by sticking close by in order to get used to the concept while having that safety net of proximity. I would also recommend waiting to sell your home or end your lease until after you've tried out the concept a little bit so that you can be certain that you want to fully commit. Begin by staying in AirBnb's for a temporary amount of time.
Get into a field and Avoid major commitments
There are two basic steps:
1) Get into a field where remote work is standard or at least technically feasible. Even if you end up having to start work at an office, you can eventually build your skills and reputation to the point where you can shop around and find the remote gig of your dreams.
2) Avoid major commitments. This can mean housing, relationships, or local community activities, but if your goal is to be able to work remotely and travel widely, all of these things are going to hold you back.
People must work on gaining skills that can help them earn passive income
People can potentially make more money as a digital nomad by running side hustle businesses to generate passive Income. According to me people must work on gaining skills that can help them earn passive income. Some ways and insights about how people are making money and running profitable passive income business ideas from are mentioned below.
Below I would recommend four ideas that one can start from home with a minimum investment.
1. Running a niche blog website (use WordPress to start).
2. Affiliate Marketing. (use Clickbank and JVZoo)
3. Filling out surveys that pay higher. (use Amazon Mturk and SuperPay.me)
4. Offering freelance consulting services (find projects on  Fiverr   and Upwork)
The ideas that I have mentioned above are easy to start and develop. They can be executed either by a single person or with a small team. Scaling the revenue would also be easy and would require minimum investment. People are making on average $500/month to $10,000 per month, working online. The revenue figures that I have mentioned are an approximation, for a better idea please google Blogging Income Reports or visit this site: *Niche Site Project*. I have used these websites for tons of research and also for getting started with making money online. According to me, people will be interested in making money online. Hence some of the ways that I have recommended above are very popular and are here to stay. Having a reliable income stream as a Digital Nomad helps one be financially more stable and independent, which is so useful and relevant during the current pandemic situation that the world is facing.
Do a 30-90 day stretch in your desired location, and do a LOT of research
I first started working from home in 2005, to keep costs down with a new $5000 start-up that was later sold for six-figures.
I started another business from home, and worked from the beaches of the glorious Sunshine Coast for several years. What could be better than that?
Hmmmm, I imagined a tropical paradise with fresh coconuts and cold beers, so I took a trip to Bali for research.
Many tourists visit Bali for a week or two and stay at a resort, but I went there for 30-days to test the viability of living there full-time. Where would I find decent accommodation? What were the going rate for rent, groceries, fuel and other services as a local, rather than tourist prices?
After my 30-day recon, I flew home, sold 99% of my worldly goods, and packed two cases to fly back to Bali to live. I think it was 2014/2015?
I had secured a 12-month lease on a 2-bedroom, 2-bathroom house with a private pool for $1000/mth. This price included lightning-fast internet for video-conferencing and a weekly visit by the pool cleaner.
Groceries were very cheap; around 20-30% of what I used to pay. I noticed that tourists would buy a fresh coconut drink for $4, but as a local, my price was $0.80. Dinners and breakfasts in a restaurant ranged from $3 up to $11, so for the first few months I ate out every day.
After a while, I grew tired of always going out, so I hired a local maid/chef (pembantu). She would come to the house at 7am, cook my breakfast, and while I ate, she would clean the house, change the linen, and prepare an evening meal to be put into the fridge and cooked later. She would work from 7am to around 10am, five days a week and cost around $100 per month. (The award wage was $120/mth for full-time workers, so this was a good income for part-time half days).
I would advise all aspiring digital nomads to do a 30-90 day stretch in their desired location, and do a LOT of research. You want to find out things intentionally and not by accident. Also join a few ex-pat groups on Facebook and ask loads of questions of people who have been there for a couple of years. They will love to help.
Switching out the work-life balance for work-life integration is important
Being a digital nomad isn't easy, and I wish I knew that switching out the work-life balance for work-life integration is important to become a successful digital nomad. Like most digital nomads I am acquainted with, I am not interested in work-life balance. But I struggle for seamless work-life-integration and building a rhythm of work and play, which fulfills all my requirements, not only the deadlines.
It's a real juggling activity: freelance work and living life on my terms. Sometimes, someone will highlight the obvious, that my life is a bigger vacation, jetting from one place to another, uploading mountains and beaches pictures to my Instagram, and ready to deep dive into the next adventure. I am a globetrotter and love warm sunshine on the beaches. But there is huge work to accomplish between those little snapshots of the beautiful places.
Cultivate emotional intelligence.
My best tip to aspiring digital nomads is to cultivate emotional intelligence. The life of a digital nomad is challenging and makes it hard to achieve a work-life balance. Your productivity may be affected by bureaucracy, lack of internet or mobile connectivity, or delayed travel plans, for example, due to natural catastrophes. As a digital nomad, it can also get lonely after an extended stay away from communities and constantly having to say goodbye. Without the ability to manage and control emotions, digital nomadism could take its toll on you, hindering you from making deeper connections or meaningful interactions with people.
Take a risk, give it a shot, and see how it goes
Many digital nomads have left their homes with no strategy in place, found remote work, and become successful almost immediately. However, there are just as many aspiring digital nomads who have tried and failed miserably.
Sure, go for it if you are self-sufficient, have the freedom to do whatever you want, and have enough savings to cover the worst-case scenario. I suggest you take a risk, give it a shot, and see how it goes. If you are not financially secure or have children, relatives, or other types of dependencies, you may want to begin your new lifestyle with a little more structure and planning. While you're still at home, I propose that you start looking for ways to make money online. If at all possible, begin while still at your existing position. You don't have to be flawless, and you don't have to be able to support yourself full-time. However, try out a few different things to find what works best for you.
Treat Being A Digital Nomad As A Wealth-Building Tool, Rather Than An Extending Spring Break
The most significant benefit of being a digital nomad is the opportunity to enjoy life overseas in a country with a lower cost of living. Spend enough time in Digital Nomad hotspots like Bali, Medellin, or Playa Del Carmen, and you'll see digital nomads treat their lifestyle as an extended holiday or a luxury gap decade. However, I see too many digital nomads waste the tremendous opportunity geographic arbitrage allows to build future wealth.
The average digital nomad is 32 years old, starting your peak earning years. Some surveys estimate 40% of digital nomads earn between $50,000 to $150,000 annually. When the average cost of living in Medellin is less than $1,000 per month, it's easy to see that digital nomads could save between $25,000 to $90,000 annually. If you were to invest $25,000 per year in broad-market ETFs returning 7% annually, you could retire a millionaire in 20 years; $50,000 a year, retire in 13; $100,000 per year, retire in less than 8 years.
Imagine being 32 years old, saving up a million dollar nest egg by 40, and never working again. Maximize the digital nomad geoarbitrage benefit by investing early and often to build life-changing wealth.
Have the right equipment. Promote your business. Be committed to your schedule regularly
Some of the best ways to become a successful Digital Nomad are as follows:
Have the right equipment. If you are doing something from the place you are in, you need to have the right technologies to connect to the people such as a computer or laptop and a wifi connection. This will make you start the work in an effective manner.
Promote your brand and business. To be a successful digital nomad, you should be a successful digital marketer. You should know to market your product to the right audience at the right time to become famous and popular.
You should be committed to your schedule regularly. Since you will be working from home there might be a lot of distractions that can come in your way. But you should never shift your focus and always show commitment towards your work.
Assess your Motivations
The first step is to understand your motivation. If you don't consider this initially, you'll likely become lost in a sea of choices with no structure.
You need a strategy for every life transformation. Before you jump on an aircraft and fly somewhere unknown, consider your goals. It's considerably easier to establish a job or business in your own nation. That doesn't imply it can't be done, but you may lack the flexibility or time to do so.
Even if you are well prepared for your digital nomad existence, the unexpected might happen. After a few months, you may realize that you dislike traveling or living abroad and long to return home. Or your company concept fails after you've invested a lot of money. Become a digital nomad safely by having a backup plan.
Take Advantage of your Particular Skills and Learn Even More
You can be a decade into your employment or just out of college. Whatever your situation, you can always learn more. To be a successful digital nomad, you must develop your talents. You can acquire these talents at home. Other talents require training, either online or in person. Many digital nomads don't have contracts or pay while roaming. That implies you need to sell yourself and establish a strong brand. Free digital marketing courses may help you get started, establish a portfolio, and connect with other businesses or clients. It will also assist businesses, clients, and consumers understand who you are. More than a logo, your brand is who you are and what you do. You should join digital nomad forums, read blogs, listen to podcasts, or take online courses. You may use your talents or expertise remotely. Some, like coding or graphic design, can be done anywhere. Other abilities may be harder to practice remotely. But it's doable and you have to find your own special sets of skills and take advantage of them.
Digital nomadism always comes down to taking risks, being immune to failure, and staying ready to face change
To become a digital nomad, I'd always vote for identifying your skills by making the best use of freelancing. Most famous digital nomads begin their journey somewhere remote and small and then step their game to land the highest paying remote job that complements their skills. Digital nomadism always comes down to taking risks, being immune to failure, and staying ready to face change.
However, in today's day and age, a skill I regret not knowing about before has to be reducing location ties and expenses. I believed that digital nomadism is all about staying a nomad without letting go of my lifestyle. And that was one big mistake I made that helped me from saving much in the future. Digital nomadism translates to identifying and getting rid of stuff that would hold you to one place for a long time, and eliminating such stuff helps you save more in the long run.
Develop those skills and talk to people who are making money online
There is no one definite way of becoming a digital nomad, as it depends on what kind of skill you have. But you can become successful. First of all, know what are those skills can help you make money online. The next step is to focus on those skills, like really focus. Develop those skills and talk to people who are making money online in that industry. You will get to know many valuable secrets and industry insights that way.
It Doesn't Work Without The Digital
My best tip for being a digital nomad that I wish I knew earlier is to figure out internet accessibility before you go. If you've always had a good internet connection where you are, it's easy to assume that it will be good wherever you go but that isn't always the case. As a digital nomad, your work depends on being able to get online from wherever you are so make sure that you can get online from your destination before you go. The digital nomad equation falls apart if you don't have the digital to support the nomad.
You can anticipate to be thinking and making a lot of choices
It's simpler to turn up on autopilot to a desk job where everybody knows what to do. Don't give me that look. Yes, it is correct. It's less difficult since you're not continuously making decisions. That is exhausting. If you join the digital nomad bandwagon, you can anticipate to be thinking and making a lot of choices about how to work, where and when to find employment, when and how to work, what else to work on, if it's functioning, and how to make it appear more genuine to the possible customer on either end of the route.
Try into one field only
The best thing I needed to know earlier is that trying into one field only. This is a very common problem for every digital nomad beginner. They can't choose what will be best for them. So, they keep changing the working sector and waste valuable time. I did the same thing. I wasted more than two years when I first started. Because each sector was looking more lucrative than others to me. So, I started learning a skill; after some weeks, I lost interest in that thing and switched to another skill to learn. Thus I kept wasting my time. I could not hold my feelings and expectations about being successful. Instead, if I had been involved in learning a single thing like app development, I would be in a better position now because learning a single skill would be time-saving for me and two years would have been enough for me to master any single skill. This is a very common tip for every newcomer to stick to a single sector.
Become familiar with a variety of softwares and project management tools
My best tip is to become familiar with a variety of softwares and project management tools. For example, every digital nomad should be well versed in: Google  SEO,   spreadsheets, WordPress, Notion, Asana, Taskade, and video editing. Digital nomads might use one or all of these tools in every project, so they should spend some time learning the basics of each.
Make sure that you have the necessary gear
One of the most important parts of becoming a successful digital nomad is making sure that you have the necessary gear to stay on top of your work while traveling. Without a desk, an office door, an outlet, or even a quiet place to take calls, working while traveling can be very difficult. If you're not effective and efficient at working while traveling your career as a digital nomad is sure to be short-lived. *Tools of the trade* like a portable laptop stand, noise-canceling headphones,  a laptop   power bank, travel outlet adapters, electronics organizer,  a laptop   backpack, and more can help create an organized and effective mobile workspace. No more neck pain from craning over to see your laptop, no more searching through your bag for that one adapter, and no more being saddled to the wall outlet to keep your electronics charged. Get the right gear, and be focused and ready to tackle your work while seeing the world.
Understanding True Self Sufficiency
As a digital nomad, one of the things I truly wish I knew was about becoming much more self sufficient in ways I wouldn't have imagined. While becoming a digital nomad seems like a dream come true in obtaining a job you love and being able to do it from anywhere in the world, very few tell you about the more logistical aspects that you are having to take care of since you are no longer rooted to using a house. A lot of the time you spend besides working on your new role and business is to essentially figure out the lay of the land so to speak. Depending on the type of remote or nomadic business you want to develop, it can force you to move around before you truly find the charm of a city or destination. If you are following a series of conventions or possibly more local festivals, it could easily force you to miss out on the more personal aspect as you rush from one location to the other in order to not miss out.
Learn new skills, Find multiple clients, Look for countries
Approximately 18% of the global workforce work full-time remotely.
This is why many people are now considering themselves as digital nomads surprisingly.
#1: Learn new skills which allow you to do work remotely
You need to learn new skills which allow you to work remotely if you want to launch your digital nomad career successfully. If you have talent and skills in graphic designing, then you can earn anywhere from $15 to $35 hourly easily. On top of that, if you develop your knowledge and technical skills in copywriting, you can earn as much as $80 per hour quickly.
#2: Find multiple clients that will pay for your services regularly.
Don't depend on one source of income only. You have to look for high-paying clients regularly and work for them simultaneously. This will lower the risk of not earning money because some clients need to downsize the operations of their business accordingly. Based on research, approximately 5% of the US workforce holds two or more jobs simultaneously.
#3: Look for countries that have a low cost of living considerably.
The only way you can enjoy your digital nomad career is when you make more money than what you need to spend regularly. This is why you need to look for countries that have a low cost of living consequently.
Set a firm ground before you start flying
Take care of the real-life adult-life stuff before pursuing your dream, otherwise, your dream of becoming a digital nomad will die soon.
Yes, I know it sounds harsh, but after seeing many people fail miserably because of the high expectations (myself included), I now realize how much you need to have your feet on the ground before starting to fly all over the world.
Nowadays, the digital nomad life is too romanticized. Yes, it is amazing to be able to travel and work in front of a paradisiac beach, but the reality is, you need to make good money, have a lot of legal issues covered, be very disciplined, and be flexible. The digital nomad life is not always as fancy as those SUVs you see on TikTok...
So my tip is to set a firm ground before you start flying.
First, have a good amount of money saved; you never know what could happen in the case of an emergency. Then, build a well-established online business (or freelance reputation), your job is what will fund your digital nomad lifestyle, so you need a good one to be able to travel as much as you want.
Also, take care of the legal issues like taxes, because every country is different and the way you'll have to do your taxes will vary a lot. Research for a good bank account and a card that works well in foreign countries. Do the same for other payment systems like PayPal or Payoneer.
Frequently Asked Questions
What does digital nomad mean?

In simple terms, these are specialists who are not tied to the office in their work and can work and travel the world at the same time. To choose a location for work, they need a laptop and fast stable Internet.
---
---
---