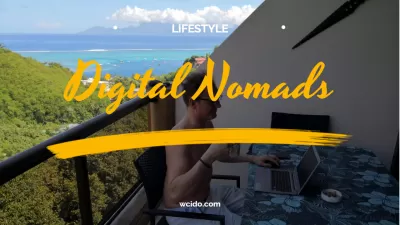 ---
---
More and more people are leaving their homes in offices, becoming digital nomads.
Who are digital nomads?
Digital nomads are successful specialists in various fields who work remotely via the Internet, and therefore are not tied to a specific place of residence.
They travel the world and consider themselves cosmopolitan. Today nomads can be found not only in the steppe or tundra, they are everywhere: from New York to Tokyo, from Reykjavik to Cape Town.
All a nomad needs is a laptop, telephone and internet connection. And, of course, comfortable conditions for work and creativity.
How do digital nomads work?
With the development of Internet technologies and mobile services, more and more professions appear that do not require the presence of an employee in the office. Remote work is less and less different from office work, where most tasks are also solved through e-mail and chats, and employees of neighboring departments sometimes do not see each other for months. Progressive leaders understand this and release labor cadres on free bread. And often they themselves follow their example, inspired by the travel blogs of employees on Instagram.
Depending on the format of work, nomads are divided into three groups:
Freelancers - work on piece projects;
Entrepreneurs - create and develop startups;
Remote employees are employed on a full-time basis in companies.
Among the nomads there are programmers, designers, journalists, copywriters, content managers, translators, and tutors. One way or another, professions in the IT field are suitable for nomadism. But not necessarily. A successful photographer with a good client base can also be a digital nomad. Owner of a small store run by family or friends. Or a popular blogger releasing a video on his YouTube channel. Someone was just lucky and he rents out a three-room apartment in Moscow.
Here's The 4 Best Digital Nomad Jobs Anyone Can Pick Up
Digital nomads can also be content creators monetizing their audience in various ways:
Where digital nomads live?
Nomads love to travel, but this does not mean that they constantly live on the road. Yes, sometimes they have to work at train stations, airports, cafes, on the beaches and in city parks, but most of the time they spend in one place, renting housing just like their settled colleagues.
The difference is that a nomad chooses where to live - in this he has more freedom than a city dweller, and changes his place of residence as often as he wants. Newcomers move every month in search of new experiences, experienced nomads prefer to rent housing for a period of three to four months to several years.
The most popular regions of the world among digital nomads are Southeast Asia, then Latin America, Eastern and Southern Europe.
At the same time, it is not necessary to go to the ends of the world: you can be a nomad in Russia as well. After the fall of the ruble in 2014, Asia became too expensive for many. Specialists with remote work in Moscow and St. Petersburg are moving to neighboring warm cities and countries: to the south of Russia, to the Urals, to Georgia. Nomads are attracted by nature, the best, in comparison with megalopolises, ecological situation, a more calm rhythm of life.
Nomads work on projects at home or in libraries, but coworking spaces are becoming more and more popular. Some coworking spaces even have gyms and berths.
As in the case of housing, a place in a coworking space can be rented for a day, a week, a month or more. The cost decreases proportionally - and this is another reason why nomads like to live in one place for a long time.
How expensive is it to be a nomad?
There is an opinion that only specialists with obscenely high salaries can travel. In fact, a lonely wanderer for a thousand dollars a month can live in almost any region of the world, except for the most developed and expensive ones: Europe, North America, Scandinavia, Australia ... And in some countries, even for 500 dollars, which is equal to the average Russian salary. The question is, rather, not in earnings, but in the ability to live within our means. Most nomads agree: We spend no more on travel than at home, and often even less.
The main items of expenses of a nomad do not differ from those of a city dweller. The same popular scheme works here that financiers recommend for the rational conduct of personal accounting: 1/3 - rent, 1/3 current expenses, 1/3 - savings.
The life of a nomad is complicated only by the fact that the level of prices and the quality of services provided (for example, the availability of the Internet and its speed) differ in different countries. With cheap rentals and good weather, internet can be expensive (and bad). Which is good at home and worth a penny.
Other expenses that a nomad should be ready for: obtaining visas and extending them, frequent travels, renting personal vehicles in sparsely populated areas, the high cost of dairy products that are familiar at home.
Numerous savings and exchange services help nomads:
The largest online community of digital nomads. A place for communication, exchange of experience and search for useful information about cities: from free Wi-Fi to crime and environmental conditions;
Temporary or permanent housing anywhere in the world, which can be rented directly from locals in a couple of clicks;
A ride search service many countries, which allows you to share a trip with a driver (add to gasoline). Today it is perhaps the most inexpensive way to get from point A to B on popular routes between cities;
American Avito (or Yula) is a badly designed message board, but you can find anything here. The service is presented not only in America, but also in other countries of the world;
Free Breakfast Lecture Series for all creative professions. The ability to listen to interesting people;
Online lessons from experts in various fields. For nomads, the service is especially relevant, because in a foreign country it is not so easy to enroll in advanced training courses without knowing the language;
Service for finding coliving - living quarters like coworking spaces, where nomads can not only work, but also live together, saving on rent and escaping digital loneliness.
Blog from an experienced digital nomad with all kind of travel information, including a search engine comparison to find the best options and cheapest flights, hotels, and other useful travel services like activities or travel insurance.
Service to find out which budget should be planned for some of the most important cities in the world, in order to better plan your stay compared to local costs.
What other difficulties and joys of nomadism are there?
Difficulties
Difficulties: unstable wages on freelance or the risks of failing a startup, dependence on the Internet and mobile communications, lack of real professional communication, the difficulty of achieving career growth, the need to be your own boss.
The most difficult thing is to find regular customers by building trusting relationships with them. Remote work gives more freedom, but also less obliging in relationships: the employer and the nomad can be thousands of kilometers away from each other, and in case of disagreement, the issue cannot be resolved in a personal conversation, even via Skype.
Joy
Joy: the opportunity to leave for a long time anywhere in the world, learning foreign languages ​​in practice, and not on expensive courses, a sense of independence, a convenient schedule that you choose yourself, project work for the result, not the time you need to sit in the office.
Where are they striving
Tourism is a phenomenon of the twentieth century, but two thousand years ago people traveled no less. Rather, it's settledness is a relatively recent phenomenon, and the nomadic way of life is a forgotten norm. It turns out that digital nomads are reviving the way of life of ancient nomads. At the same time, as it has already become clear, modern nomadism differs from what they are used to understanding by this term.
To be a nomad means to have a different attitude to time, place of residence, work, personal and business relations ... nomads do not like to go to the office, do not take mortgages and loans, do not buy unjustifiably expensive things and equipment, do not play sports in fitness centers, and in nature, looking for adventure on their own instead of watching TV.
At the same time, nomads are not necessarily lonely hermits, fleeing from the consumer society. Many travel in pairs and even with large families. It is more convenient for parents to look after their children when they do not need to be lost all day at work. Children in such families learn to travel from an early age, communicate in several languages, acquiring useful skills.
How to become a digital nomad
Traveling around the world is not as easy as it seems, even for those who already work in one of the popular IT specialties. Remote work is often more difficult than office work. The transition from office to freelance takes time: from six months to several years.
The soil for the escape should be prepared in advance. The main thing is to find a business that you like to do. Pay attention to it on a regular basis, read special literature, exchange experience with colleagues in the shop ... Don't know how to draw websites or edit texts? You can learn the profession of a designer or editor in less than a year.
Gradually, increasing earnings and effectively managing expenses, you can reach your usual office standard of living. When it comes to travel, you shouldn't immediately go abroad for a long time, but try to live in some country for a month or two in order to understand for yourself what it is like to be a digital nomad.
Frequently Asked Questions
What jobs can you do as a digital nomad?

Definitely, before choosing the type of work for a digital nomad, you should evaluate your strengths, advantages and interests. Answer yourself a simple question - What would I like to do if the main thing in choosing a profession was not money?
---
---
---