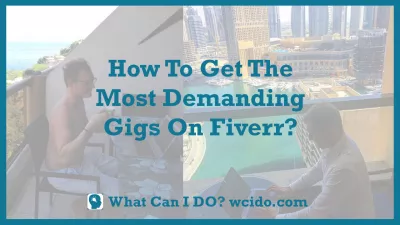 ---
---
Digital nomadism usually goes with temporary jobs that can be performed anywhere and do not require to follow a strict schedule, and one of the most famous platform to find them is Fiverr. But how to make the most of it?
Getting the most demanding gigs on Fiverr is not accessible to any first comer in the industry, as it necessitates to have built up a reputation, to know how to market yourself properly and get jobs for your profile according to your skills... and of course to perform these gigs perfectly.
However, there are some basic tips to apply in order to get these most demanding gigs on Fiverr and eventually live off Fiverr that way, by selling your precious and valuable skills to the right buyers - and there are even ways to get money beyond Fiverr, without breaking the terms, which require you to keep all communications on the platform, which should always be the case for your own sake.
Is Fiverr good for beginners?
Let's start at the beginning, by starting using the platform. Fiverr can be a great place for beginners, provided that you have some real skills already, and are able to deliver the result expected from you.
In order to get there, do not advertise yourself for anything else than what you know you will be able to perform, and eventually offer support in case of any issue with your deliverable, which has a tendency to happen when starting in a new job, such as freelancing online for the first time.
To get started, all you have to do to become a freelancer is to create an account for free on Fiverr platform, after what we will see how to get your first gig on Fiverr.
What's a gig job?
The basic concept used by the Fiverr platform is that a freelancer creates a gig, and an employer can hire this freelancer to perform that gig job for him, against a fee agreed before the transaction.
But what's a gig job? It is a temporary contractual job decided online between a service provider and a buyer.
Anybody can propose a gig job as long as it is feasible online, and that the buyer can pay for it on an online platform.
The terms of a gig job are decided in advance, and a defined deliverable is expected at the end of the gig job.
How do I get my first gig on Fiverr?
Now that you have created an account as a freelancer on the Fiverr platform, fill in your details, until you reach the gig creation page.
This is where you will create an advertisement for your own profile, and the better your gig is, the more chance you'll have to get offers to perform the most demanding gigs on Fiverr and earn money from the platform.
Only yourself can know what you are able to do at the perfection - or are willing to upskill in that direction. If you don't have skills yet, best is to start taking  online courses   until you are able to propose some online services.
A good way to get your first gig can be to start your own blog and write about you know best, mentionning that you are available for hire about your domain of competence on Fiverr, and sharing links. If you are not sure how, this guide might help you:
You can for example focus on the skills for the most demanding gigs on Fiverr to get interesting gigs in the future.
Which skills are in demand in Fiverr?
There are many different skills category available on Fiverr, and most of them are available without skills verification. However, before having performed any gig job and having proven in some ways that you got the skills, it might be difficult to get any gig.
The available gig categories available on Fiverr are the following:
The good news? Most, if not all of these gig jobs categories are perfectly fitting with a digital nomad lifestyle, and allow you to work remotely and earn money from wherever you are and want to work!
But what skills are in demand in Fiverr and should you focus on? According to below article, below skills are the most in demand on Fiverr at the moment, and are your best shot at getting the most demanding jobs on Fiverr:
6 Best Fiverr Gigs – Top Selling Options
If you have skills for any of these jobs, you are most likely to be able to find a gig by pricing it right!
How do you get gigs on Fiverr?
According to a successful freelance writer, the best way to get gigs on a platform like Fiverr... actually is to cold pitch via emails to get your first jobs!
While she is explaining a great way to do it for freelance writers, it might just work fine for various gigs. Who knows if a former employer doesn't need a freelance in your new skillset?
The best way to get clients, is to already have clients, and having your previous customers referring you to others, coming back to you for new jobs, and these are the best ways to get your first gigs on Fiverr, by asking these clients to come to complete the payment on the platform, and leave you ratings and reviews.
That way, you will actually get more gigs by getting more attraction on your profile and showing up with a real portfolio of successfully completed gigs on your platform, thus getting you more gigs on Fiverr, and ultimately landing you the most demanding gigs on Fiverr which also are the highest paying ones... but require some kind of credentials before getting them.
Cold pitching people within your close or not so distant network actually is the best way to get interesting gigs on Fiverr, and to facilitate landing them at first, as these potential clients might have a connection with you, either through a mutual contact, or simply via the email you sent them.
Another solution can be to hang around coworking spaces, meet other digital nomads that are already working on online gigs, and might refer you to clients in their network - or even hire you to perform some work for them.
There are plenty of ways to find gigs of Fiverr, despite working on your gig pitches - in any case, the best way is always to be creative!
Can you make a living on Fiverr?
Now that you know how to create an account, make a great gig, and even to get clients, the question is should you try to get the Most Demanding Gigs on Fiverr and can you make a living off Fiverr?
Actually, yes, you can, and many digital nomads are using platforms such as Fiverr, Upwork, or Freelancer, to work as a freelancer wherever they go, and fund their project that way while working on the go. It starts by calculating your rate properly and realistically.
The amount of money you need, the one you will make, and the one you want, really depends on your skill, your network, the gigs you will manage to get and perform successfully, and ultimately your talent in many skillsets that people are looking for on Fiverr.
Extra tip: get money after your gigs have ended
Depending on your line of work, you will most likely be able to get your clients to use the products you recommend them. For example, getting your clients to use the best cheap web hosting you recommend them by creating a website for them, or the best way to monetize your website that will earn you passive income and get them to increase their website or digital program earning.
By using Fiverr for affiliate marketing you might be able to tell your clients which programs works best for them, and earn a lifetime commission as long as they are using the products you referred them for, and they make money for using them themselves and finding clients for these programs!
For example, these affiliate marketing programs are great to refer to your clients in different fields:
Frequently asked Questions and Answers about gigs on Fiverr
---

About the author - Michel Pinson
Michel Pinson is a Travel enthusiast and Content Creator. Merging passion for education and exploration, he iscommitted to sharing knowledge and inspiring others through captivating educational content. Bringing the world closer together by empowering individuals with global expertise and a sense of wanderlust.
---
---
---